MLK Calls for Kitchen Table Affirmative Action (KTAA)


We [the American Negro] collectively have an annual income of more than thirty billion dollars a year, which is more than all of the exports of the United States, and more than the national budget of Canada. Did you know that? "That's power right there, if we know how to pool it..." Martin Luther King, Jr "I've Been to the Mountaintop" delivered April 3,1968, the night before he was assassinated (Listen to 2 ½ minute audio of edited excerpts).The Black churches of Atlanta, Georgia have figured out how to pool it and they are ready to lead the community in doing just that. The Black churches of Atlanta urge you to join the OvergroundRR!!®'s Black Business Month / Marching2March celebration. By connecting consumers to Black businesses through churches, we will change the financial landscape of the Black community.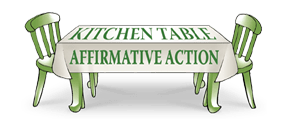 The central business directory of the Atlanta Black community. Find Black- owned businesses committed to providing quality services and products.
Find an African-American Owned Business. See pages 13-15